Ayur Rathna' s Psoriasis Ayurvedic treatment has been proven to be one of the best solutions for psoriasis and eczema skin disorders. We have a decade of experience in treating skin disorders that led to chronic disorders like psoriasis and eczema.
Psoriasis is a chronic disorder of the immune system that affects between 1 – 3% of the world's population. It causes skin cells to mature at a rapid rate and instead of falling off, these cells pile up and form lesions.
Physically, both psoriasis and eczema cause painful swelling, bleeding cracks, severe scaling, itching, burning and plaques to the skin. Also, psoriasis plaques and eczema rashes appear on different parts of the body including the scalp, palms, elbows and knees, nape of the neck, genitals, and soles of feet.
Emotionally, psoriasis can be for some an exasperating and complex to treat. The detrimental impact on a person's confidence, feelings and possibly experiences should not be underestimated. Many suffer believe they need to dramatically change their lifestyle to accommodate the unsightly presentation of their condition. They often shield themselves away from others to avoid embarrassment.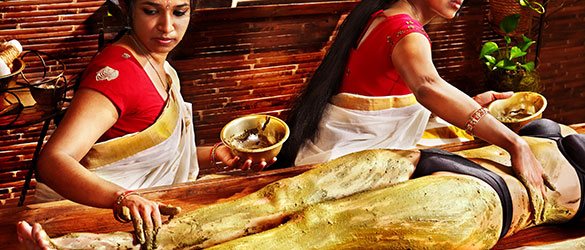 Psoriasis varies enormously in severity, duration and how it responds to treatments. It can affect the young, middle-aged & elderly. It can also equally afflict females & males.
Psoriasis Ayurvedic Treatment at Ayurrathna
We practice a complete Psoriasis Ayurvedic Treatment. Our natural psoriasis Ayurvedic treatment uses medicated oils that moisturizes and removes scales from the skin. Using oils along with natural medication enhances the healing process among psoriasis patients. The medicines which are prepared using rare herbs discourage the production of psoriasis skin cells all over the body.