Ayur Rathna 's Ayurvedic Treatment for Arthritis in Kerala has been proven to be one of the best solutions for Arthritis related issues.  We have a decade of experience in providing the best solutions for all Arthritis diseases including Rheumatoid arthritis, Osteoarthritis etc.
Arthritis is an inflammatory condition that could involve one or more of your body's joints. According to modern medicine, there are several different kinds of arthritis, including osteoarthritis and rheumatoid arthritis. The main symptoms of this condition are pain and stiffness in the joints. Since this is a progressive disease, it may worsen with advancing age. It could be caused by normal wear and tear of the joints or the formation of uric acid crystals that cause increased friction between the knee joint structures.
Ayurvedic treatment for arthritis is based on the understanding of the various doshas or humor of the body.  As per Ayurveda, Arthritis is a condition caused due to the aggravation of Vata dosha (air). The body produces ama – a toxin that is released as a byproduct of improper digestion. When ama is produced, it circulates in the body and gets deposited at sites that have already weakened. So when the vata is already stirring up, ama finds the perfect place to build up. That is why you experience arthritis in fingers or knees.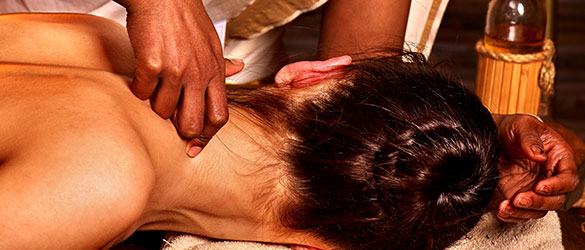 Since arthritis is caused due to Vata aggravation, the main aim of Ayurvedic treatment for arthritis is to balance and stabilize vata in the body. This can be done by strengthening the alimentary canal and the metabolic pathway.