Ayur Rathna's Detoxification Ayurveda Treatment has been proved to be one of the best solutions for removing toxins from the body. We have a decade of experience in the  Ayurveda and panchakarma treatments.
According to Ayurvedic texts, our body is crisscrossed by srotas or channels or tube-like structures. This network contains both microscopic and macroscopic channels (Digestive system, nervous system, circulatory system etc.). The innumerable physiological process like breathing, blood circulations, secretions of enzymes, hormones etc. flow of signals, the supply of nutrients, filtration of toxins, excretion of waste etc. are aided by these tubular structures.
Diseases occur when toxins get accumulated in the body and clog these channels. Unhealthy diet, lifestyle, stress, changes in the environment etc. lead to accumulation of toxins in the body. These accumulated toxins have to be expelled out in order to keep our body healthy.  Through Detoxification Ayurveda Treatment these toxic clogs are removed to normalize the physiological process. Hence panchakarma therapy is called as detoxification Ayurveda treatment. Detoxification Ayurveda Treatment can be administrated to a normal person to prevent diseases and keep his body healthy. The ideal season to expel toxins through this therapy is the rainy season.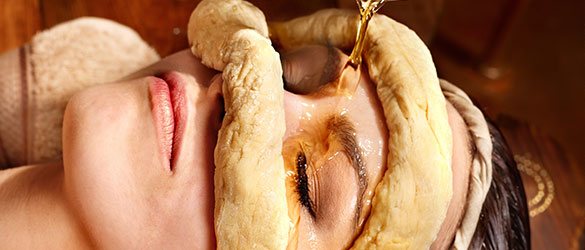 Panchakarma is a set of five therapeutic treatments undertaken for the complete detoxification of the body.  According to Ayurveda, it is essential before starting any other major therapies. It is beneficial to throw out all the impurities and chemical toxins from the body. For some people, panchakarma alone can cure many chronic diseases and doesn't require any more treatments.
The detoxification ayurveda treatment contains three steps:

Purva karma – Preparations before detoxification
Pradhana karma – The Main Detoxifying process
Pashchat karma – Rehabilitating the diet and lifestyle after detoxification process