Ayur Rathna provides the best ayurvedic treatment for skin diseases in Kerala for all types of skin diseases. Since skin is the largest organ in the human body. It provides protection and insulation, prevents from dehydration, and the skin senses the environmental changes in and around us. Various infections and inherited genetics can cause skin disorders. These disorders may range from mild conditions to severe skin cancer as well.
Commonly faced skin problems are acne, pimples, pigmentation, blemishes etc. Most of the time, we take these infections as common and do home remedies for the cure. Delaying the treatment of these infections or diseases could cause fatal skin diseases. Skin is the index of our body. A healthy skin defines a healthy body. Any skin problem indicates a disturbance in some part of our body which needs to diagnose accurately to remove its cause.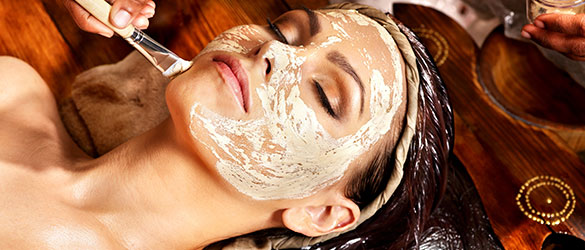 There are three types of Doshas in Ayurveda :
Vata: Vata Skin is thin, delicate and almost transparent. Prone to dryness, flakiness, dark spots, and premature fine lines and wrinkles. Usually, does not have clogged pores. These types often have dark under eye circles.
Pitta: Pitta Skin is clear and radiant, but can occasionally be irritated and red. Easily sunburned, may have freckles and moles. At risk for sensitive skin and oily skin. May have congested pores in T-zone.
Kapha: Kapha Skin is smooth, moist skin, but that means you may also have large pores and oiliness. Prone to oily skin, blocked pores, and dull or pale skin. It may also have puffy eyes and suffer from rashes.