Shirodhara treatment is a unique, blissful therapy that balances and stabilizes the mind.  Shirodhara treatment is part of Panchakarma treatment ( Ayurvedic detoxification process). It involves a steady stream of warm oil is gently poured on the third eye center of the forehead just between the eyebrows. This calming process saturates the head with warm oil, soothing the peripheral nerves around the scalp and brain aiding deep relaxation.
Shirodhara treatment is not only exceedingly effective in alleviating high Vata, mental stress and nervous tension, all of which are rampant in modern society, but it feels utterly luxurious and nurturing, like a guilty pleasure that is actually good for health.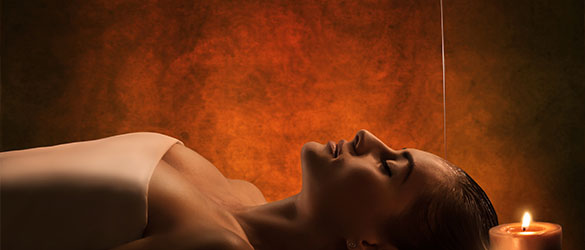 Shirodhara treatment enhances circulation in the brain, improves memory, nourishes hair, provides sound sleep and calms the body and mind. Naturally, the quality and effectiveness of Shirodhara treatment consist largely in the quality and characteristics of oil used.