Panchakarma Treatment in Kerala is referred to be the traditional Ayurvedic cleanse and detox treatment system. Ayur Rathna provides the best Panchakarma treatment in Kerala which includes ancient scientific procedures to remove accumulated physical toxins called ama. Ama can be caused by environmental factors such as exposure to carcinogenic products and vapors, smoking, excess recreational and allopathic drugs, electromagnetic radiation, ingestion of toxic food and beverages or be created within the body from a residue of partially digested food and stress.
The main purpose of panchakarma is to cleanse the large and small channels of the body called shrotas, remove toxins from the tissues and organs, and completely rejuvenate the physiology, mind, emotions, and spirit. Panchakarma treatment eliminates harmful ama from our system through bodily organs and channels of elimination such as colon, sweat glands, lungs, urinary tract, stomach, and intestines.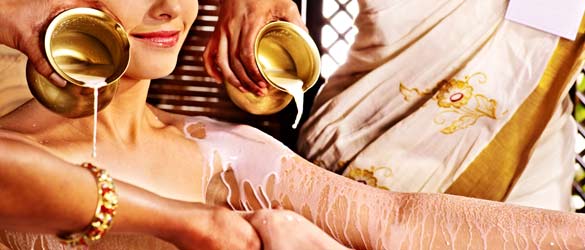 Panchakarma is a Sanskrit word and comprises five cleanse therapies structured in stages. Those treatment steps are the preparatory or pre-cleanse phase, the primary cleansing phase, and the post-cleansing phase respectively.
Panchakarma is carried out in stages and is performed over several days. In course of treatment, patient's cleansing and detox progress are closely monitored and managed by practitioner and therapists.  Ayur Rathna's Best Panchakarma treatment in Kerala has five phases which are carried out in three phases or stages. Those three parts are the preparatory phase, main cleanse phase and the final and consolidation phase.